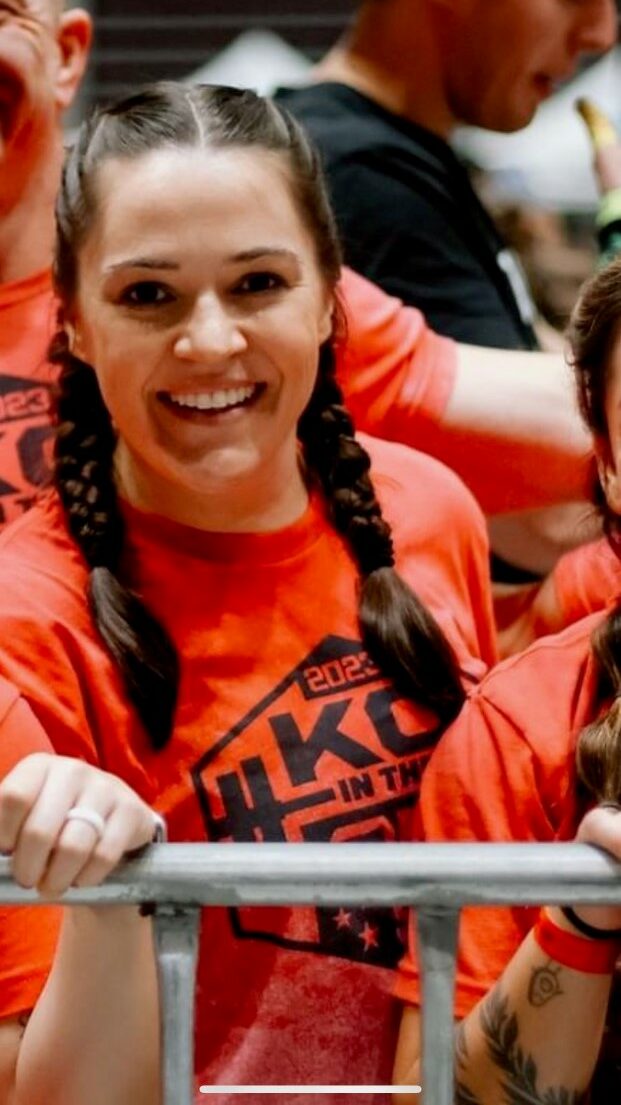 1. What is your name or nickname? — Sarah, Weddingcake, Sar
2. What are your favorite hobbies, talents, skills outside of CrossFit? — When I'm not busy with my family, I love having a nice girls dinner with my friends. Anything to relax and not chase kids around.
3. How did you find/get to CrossFit Eclipse? — We moved to south Tulsa a couple years ago and it only made sense to switch gyms. Thank goodness I did because Eclipse is the best CrossFit gym I've ever been a part of.
4. What motto or phrase do you live by? — "Ain't nothing to it, but to do it."
5. What is your favorite music to listen to while WODing? — Eminem or anything that gets me pumped up!
6. What is your favorite WOD? — I always loved Cindy but it's been a while since I've done it. I may hate it if I did it today.
7. What is your favorite cheat Food(s)? — Anything fried or crunchy.
8. What is one thing you have done at CFE that you never thought you would do? — KO in the OK. Joke's on me.
9. What motivates you through your CrossFit journey? — My boys who are 3.5 and 2 years old. I try to stay in shape to keep up with them and also be a good example for them.
10. What results have you seen so far in coming to CFE? — I started at CFE when I was a couple months postpartum. I've definitely gotten stronger and my endurance is better! I've PR'd a couple lifts too!
11. Do you have any special or successful CrossFit Eclipse memories/moments? — My partner and I won the Backyard Brawl a couple years ago (scaled)!
12. What sort of life changes have you experienced because of CrossFit that you didn't expect? — I was never able to stick to a workout schedule pretty much my entire life. I found CrossFit 10 years ago and I've never stopped! It's been my constant through a wedding, two babies, moving and career change.
13. What advice would you give to a newbie or someone just joining CrossFit Eclipse? — Don't let it scare you. Be patient with yourself and your progress. Before you know it, you'll be surprising yourself left and right!
14. Current training Goals/PRs? — butterfly pull-ups and maybe one day, a muscle-up!
15. If you could create a WOD and name it for yourself, what would it be? —
SARAH
21-15-9
Hang power cleans
Burpees
Toes-to-bar
16. Cowboys or Sooners? — Boomer Sooner!