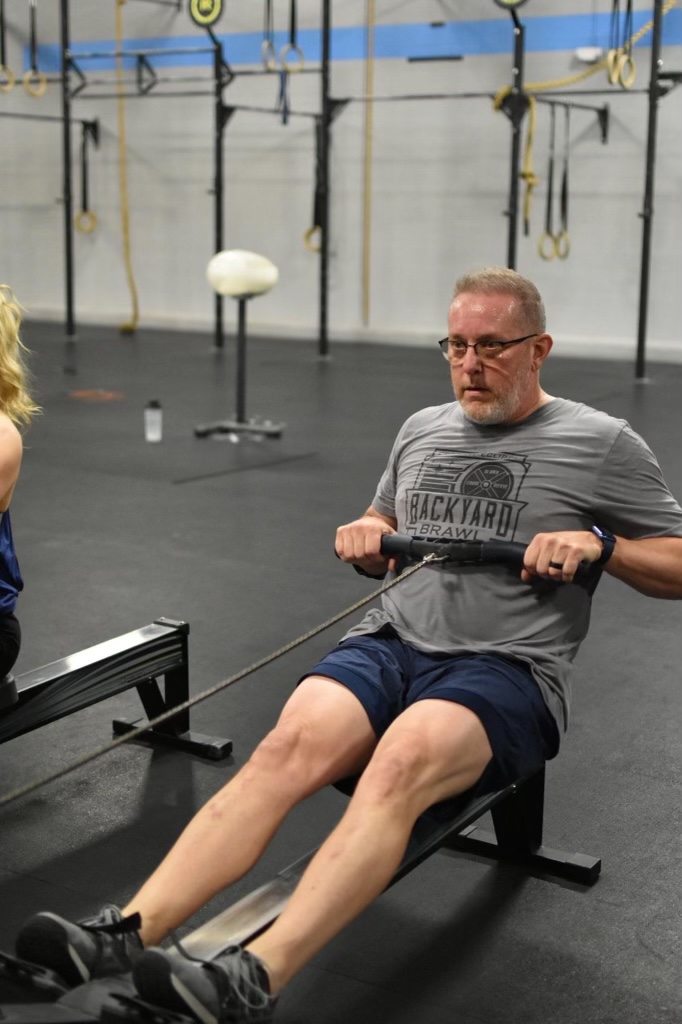 Athlete of the Month:
1. What is your name or nickname?
Kelly
2. What are your favorite hobbies, talents, skills outside of CrossFit?
My main hobby is woodworking. I enjoy messing about in the garage and every once in a while producing something that is worth keeping.
3. How did you find/get to CrossFit Eclipse?
I was going to Planet Fitness for several years and reached a point where I was bored and not improving. Jenny and I noticed CFE across the street, decided to give it a try, and haven't looked back.
5. What is your favorite music to listen to while WODing?
Metallica, System of a Down, Eminem, Beastie Boys
6. What is your favorite WOD?
Perhaps self-serving, but 'Kelly'. 😀
7. What is your favorite cheat Food(s)?
Chips and queso.
8. What is one thing you have done at CFE that you never thought you would do?
Does karaoke count?
9. What motivates you through your CrossFit journey?
Knowing that I am making continued progress with my cardio and strength. I also like being challenged by all of the coaches to do things I've never done before.
10. What results have you seen so far in coming to CFE?
Definitely stronger and I don't feel like I've died after only 10 burpees! 😀
11. Do you have any special or successful CrossFit Eclipse memories/moments?
Yes, a very recent one. I really enjoyed the Open 23.2 WOD. It was the first time I've attempted the RX level in the Open and I was very happy to get a 185 lb Thruster.
12. What sort of life changes have you experienced because of CrossFit that you didn't expect?
Planning so many aspects of my life around WODs, from sleeping to eating to minimizing business trips so I won't miss class.
13. What advice would you give to a newbie or someone just joining CrossFit Eclipse?
Don't stop. Those first days/weeks when you are sore and it seems like you can barely move…? That doesn't last forever. You will get into a rhythm where you find that you want/need/crave to go and you'll start to reap the rewards.
14. Current training Goals/PRs?
I've been working on double-unders, trying to jump properly and BREATHE. My current goal is 50 unbroken (I've managed 27 so far)
15. If you could create a WOD and name it for yourself, what would it be?
4 Rounds
400 M run
10 Snatches
20 Burpee box jump overs
16. Cowboys or Sooners?
Absolutely a Cowboy fan. GO POKES!